Experience the untouched beauty of Idaho's backcountry with our guided yurt trips. With access to Sun Valley Mountain Huts' system of 6 beautiful locations, you can access remote mountains with untapped powder stashes by day and return to comfortable accommodations by night. Sun Valley Guides takes this adventure to the next level with their intimate knowledge and assessment of the local ski terrain, adding an extra level of safety and access to untouched terrain. Try linking two or more destinations together for a hut-to-hut adventure. In the evenings, kick back by the wood stove for delicious food, games, stories, and camaraderie. Cap off each night with a relaxing sweat in a cedar sauna or a soak in a wood-fired hot tub! Yurts are subject to availability.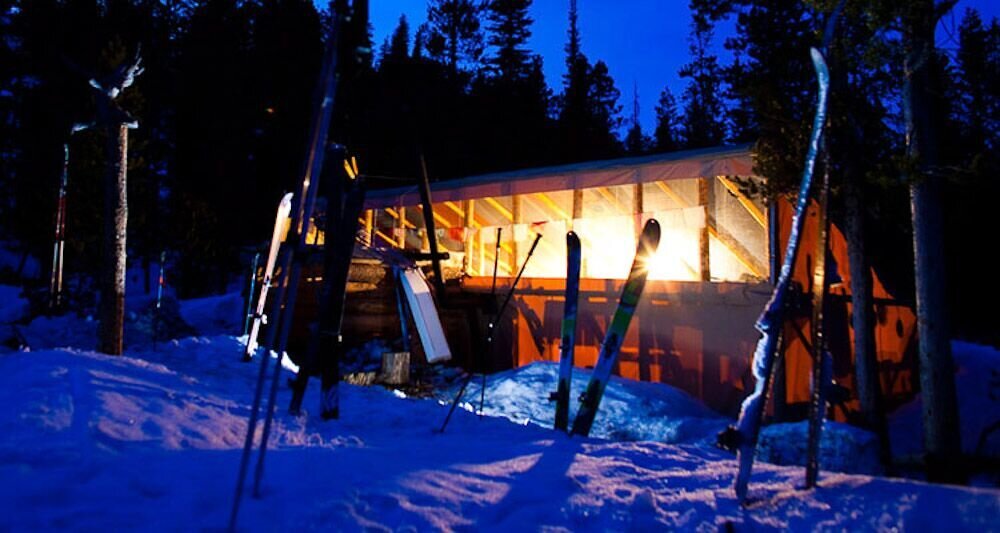 Bench Hut is the perfect destination for intermediate and advanced downhill skiers and boarders. Nestled high in the Sawtooth Mountains at 7400 feet, just 4 miles from the Redfish Lake Trailhead, you'll enjoy outstanding views and a variety of ski terrain.
Available Winter Only
Boulder Yurt is ideal for first time adventurers and family expeditions. One of the most popular huts in the systems, the Boulder Yurt is an easy 1.5 mile tour in from the trailhead, offers staggering views of the Boulder Mountains and can accommodate up to 14 guests. Or, for a one of a kind dining experience, enjoy an evening at the Boulder Yurt with dinner catered to you and up to 10 guests. Check out our Boulder Yurt Dinner for more details.
Available Winter Only
Enjoy breathtaking views of the Boulder and Pioneer Mountains from the this remote hut situated 8700 feet high in the Smoky Mountains. A longer 6 mile trek in from the road, many prefer a snowmobile tow in to this remote hut. The Coyote Yurt is a great option for intermediate and advanced skiers, the Coyote Yurt offers a variety of ski terrain.
Available Winter & Summer
Fishhook Hut is an idyllic 4 mile trek along a meandering stream. A great destination for tour oriented skiers and snowboarders, Fishhook offers many scenic tours through the meadows and forests of Fishhook Valley. For classic mountaineers, the Sawtooth peaks behind Fishhook valley offer top-notch steep walls perfect for climbing and downhill skiing.
Available Winter Only
For moderate to advanced tourers, Pioneer Hut is a 6 mile trek over 2100 vertical feet (about 4-6 hours) to a classic alpine meadow neighbored by Hyndman Creek. From here you're at the gateway for to some of the most dramatic ski lines in the area. Snowmobile access is also available to Pioneer Hut for the first 5 miles in, after March 15th.
Available Winter Only
High in the Smoky Mountains at 8400 feet, the Tornak Hut is known for its high touring terrain and abundant downhill run. Best for intermediate and advanced skiers, Tornak offers complex terrain best for turn-oriented skiers and riders. Tornak can be approached from Coyote Yurt, allowing for hut-to-hut adventures for adventure seekers.
Available Winter & Summer
ADDITIONAL SERVICES
Snowmobile Tow/Cargo: $400 1-5 pp, $500 6-12 pp
Porter: $225 for 1 50lb load (typically for 1-4 guests)
2nd Porter: $450 for 2 50lb loads (4+guests)
Contact our office to build your customized trip today.